Hey, friends! How is everyone feeling after the spring forward this weekend? I don't know about you but I've needed an extra cup of coffee (or two) to keep up these last couple of days, but I won't complain because it means spring is on the way!!
I have partnered up with a group of sweet blogger gal pals to present you with some fun inspiration through home decor and fun fashion pieces that were all picked up while thrifting! (keep reading for more details at the end of the post)
In celebration of spring I was looking to add some colorful new pieces to my kitchen so I took a trip to one of my local thrift stores and struck gold with a handful of kitchen decor and glassware items. Nothing beats finding some amazing pieces that match your style or home vibe for a steal of a deal.
The first thing I found was an awesome vintage primary colored floral ice bucket. I chose to style it on my countertop alongside my kitchen utensils and my red Kitchenaid mixer. I am using it to store loose kitchen items like measuring spoons and cups. The floral pattern definitely made me think spring and it's the perfect practical storage for the kitchen! An added bonus is how much it "pops" with my metallic backsplash.
My second score of the trip was a rainbow glassware set of both martini and wine glasses. They have a unique colored line pattern around the bowl and bottom of each of the glasses and there is a handful of colors making them look extra fun all together! My snarky coasters are the perfect complement to this sassy set 🙂 I styled them on my favorite vintage orange bar cart that I scored a couple of years ago at a big junk market. They add a touch of whimsy to the kitchen and will be perfect for summer entertaining and nights on the patio once we get rid of all of this snow!!!
To give you a better idea of the bar cart and styling, I took a photo from farther away. One of the walls in my kitchen was blank with no storage so I made it functional by adding a fun garage sale shelf to display my colorful coffee cup collection and then added the cheery orange bar cart to serve as additional dishware and small appliance storage. The multicolored and patterned curtain hanging on the wall above the bar cart was another vintage/junk market find from my favorite local store – Picks. I was drawn to it immediately because of the mustard yellow polka dot pattern and the sweet little yellow pom pom details. It was made by sewing a variety of hankies together. I love the vintage vibe it brings and its the perfect balance to the storage pieces!
Take this post as a sign to take a spin through one (or a few!) of your local resale, thrift, and junk market style stores. You just might find some unique treasures that would fit right in to a space in your home or pair perfectly with something else in your closet. I think we all know how many of our friends spent the first part of the year studying up on the Marie Kondo ways and probably took a few loads of items to the thrift store (wink wink). One woman's items that don't bring her joy just may bring YOU joy!
Please take some time to check out the other thrifted treasures that my gal pals from around the Midwest found on their thrift store adventures by following the links below. These women are some of the sweetest people I know and it would make my heart happy if you would support them and their blogging journeys as well ❤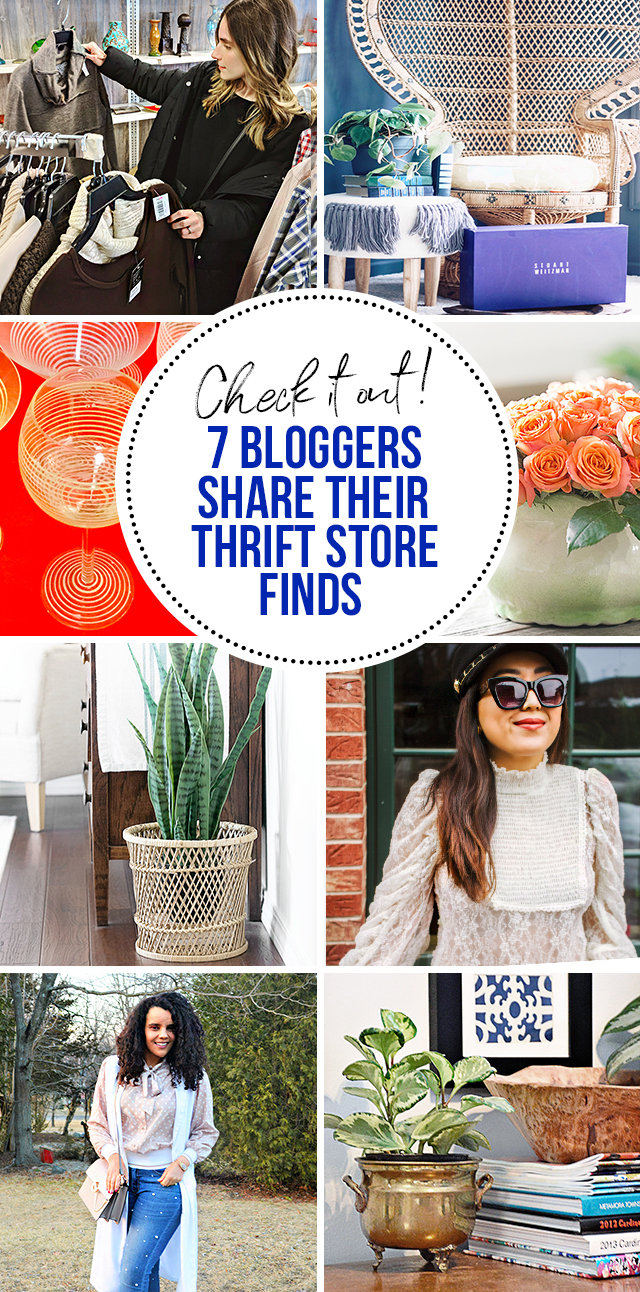 The Dark Plum
9 thrift store shopping tips featuring thrifted outfits from all 4 seasons.
Everyday Mrs
Boho Home Finds and High End Designer Wear.
Sugar, Spice and Style Thats Nice
Bar Cart Styling and Colorful Kitchen Vintage Finds.
Live Laugh Rowe – ME!!
Boho Baskets and Beautiful Vintage Vase via Live Laugh Rowe
The Glamour Pursuit
Thrifted Work Outfits
Curlybyrdie Chirps
Revamping My Spring Style on a Budget
Everyday Teacher Style
Perk Up Your Home Decor on a Budget with Thrifted Finds
As always, thanks so much for reading along. Have a wonderful week!
xoxo Jen